COMMERCIAL CARPET CLEANING | Australia Wide
---
They are usually made from tightly woven fibres that make it durable so that it can last longer. This helps them stand up to all the wear that they receive, but it also makes them more vulnerable to dust, dirt and pollutants. 
Professional commercial carpet cleaning gets deep into fibres and removes the particles that are causing damage and making it look dull.
It's important that the workplace environment is kept clean and sanitary for the health of your employees. 
Myer Carpet Cleaning is proud to use Australian made equipment and 100% non-toxic cleaning solutions. You can rest assured knowing that when we're done therewon't be any harmful by-products left behind, keeping your employees healthy and productive.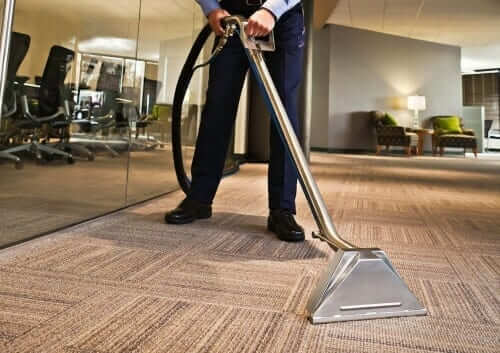 IMPORTANCE OF COMMERCIAL CARPET CLEANING
---
Extend the Life of your Carpet
Having professional commercial carpet cleaning in Melbourne, Sydney, Perth and Brisbane performed will help to extend the life of your carpet. Steam cleaning is able to remove dust, dirt and particles from your carpet that normal vacuuming is unable to do. These elements get deep into the fibres and cause damage.
Eliminate Foul Odours
Keep your business smelling fresh by having commercial carpet cleaning. Odours are embarrassing and unpleasant. They can cause you to lose customers and make employees sick. Odours are caused by bacteria in your carpet. Steam cleaning can kill the bacteria helping to eliminate the odours.
Make your Business look more Attractive and Inviting
When you own a business, you know that having a clean organised space is more attractive and makes for a better first impression. It also gives your customers the feeling that you offer a high quality of service. Nobody wants to walk into a business that is dirty and uninviting..
Your Carpets will Look New Again
Commercial carpet cleaning Melbourne will help to make your carpet look new again. This makes for a more inviting environment which leads to fewer customer complaints and higher employee productivity. Our technicians are personally trained and know how to thoroughly clean your carpet while being gentle and effective.
Decrease Number of Employee Sick Days
Commercial Carpet Steam Cleaning in Australia is able to remove germs, bacteria and dust mites that are hiding in your carpet. These harmful particles are disturbed and released into the air by normal everyday activity. They aggravate respiratory problems, allergies, sinusitis and asthma causing employees to take time off due to sickness. By improving the air quality and removing pollutants that are collected within the fibres of your carpet your employees will have a healthier work environment, improving overall productivity.
Increases Employee Productivity
If you make the workplace comfortable for your employees, they are going to be happier and work harder and be more productive.